The Panthers continued their comeback ways, rallying from a multi-goal deficit to win for the eighth time in 2021-22 and third in their last four games.

* Cale Makar tied Ray Bourque for the second-most assists in a season by an Avalanche/Nordiques defenseman before netting his third overtime winner of 2021-22.

* The Central Division continues to provide plenty of intrigue with the Blues and Wild jockeying for home ice advantage in a potential First Round showdown.

* Johnny Gaudreau (34-65—99 in 71 GP) and Auston Matthews (56-41—97 in 66 GP) will each continue their pursuit of 100 points in two of five games featured Saturday on Hockey Night in Canada.

'COMEBACK CATS' CAPTURE NHL-LEADING 30TH HOME WIN OF 2021-22
Aleksander Barkov (0-2—2) recorded his sixth straight multi-point outing (6-8—14) and Jonathan Huberdeau (0-1—1) extended his point streak to 10 games (7-12—19) as the Panthers overcame a 3-1 deficit to earn their NHL-leading 30th home win of the season (30-6-0). It marked Florida's eighth multi-goal comeback victory of 2021-22, the most in a single campaign in franchise history.

* Florida has now earned a multi-goal comeback victory in three of their last four appearances. The last team to record three multi-goal comeback wins in a four-game span was Detroit in 2018-19.

* Barkov moved into a tie with Huberdeau (6 GP in 2018-19) for the second-longest streak of multi-point games in Panthers history behind Pavel Bure (7 GP in 2000-01). Meanwhile, Huberdeau became the second player to record multiple double-digit point streaks in a season with the franchise (also 10 GP from Jan. 27 – Feb. 26), joining Bure (13 GP & 11 GP in 1999-00).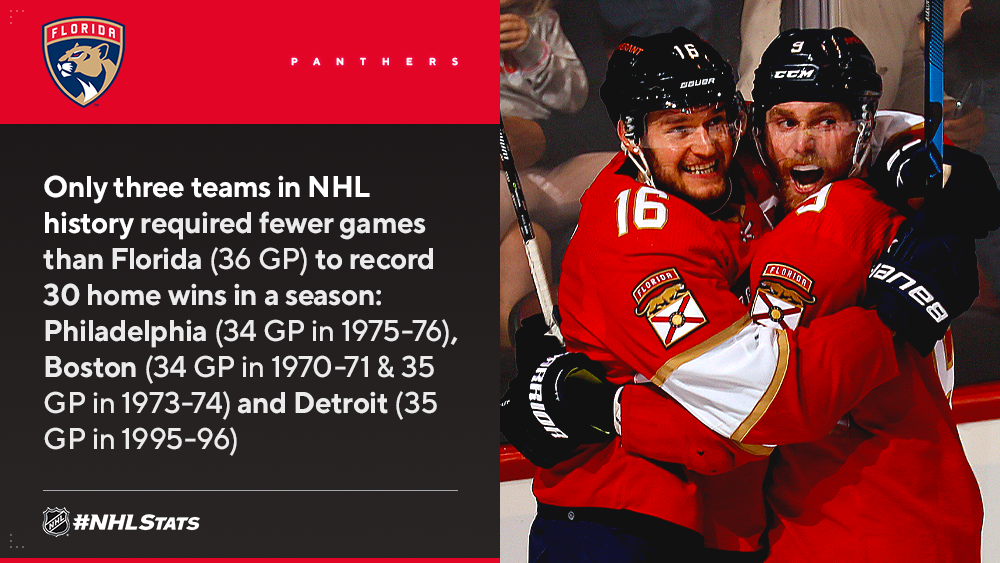 * ICYMI: The Bruins (45-21-5, 95 points) defeated the defending Stanley Cup-champion Lightning (43-20-8, 94 points) in overtime at AMALIE Arena, opening up a one-point lead over Tampa Bay for third place in the tightly-contested Atlantic Division standings.

MAKAR MAKES HIS MARK WITH THIRD OVERTIME WINNER OF 2021-22
After Nikolaj Ehlers (2-1—3) tied the game for the Jets (33-28-11, 77 points) with just 16 seconds remaining in regulation, Cale Makar (1-1—2) scored the overtime winner to help his Avalanche (51-14-6, 108 points) quell the comeback attempt.

* The goal marked Makar's third overtime tally of 2021-22 – the most among all defensemen – as he matched the franchise record for the most in a season by an Avalanche/Nordiques skater. Nathan MacKinnon (3 in 2017-18), Tyson Barrie (3 in 2013-14) and David Jones (3 in 2010-11) had previously hit the mark.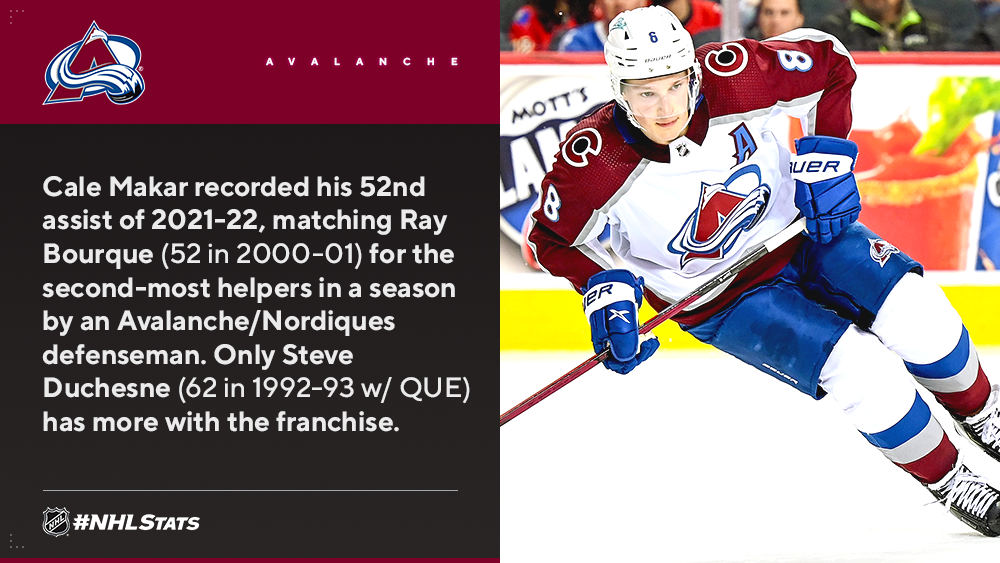 #STANLEYCUP PLAYOFF RACE: BLUES, WILD BATTLE IN CENTRAL DIVISION
The Blues (41-20-10, 92 points) rallied from a multi-goal deficit to defeat the Wild (43-21-6, 92 points) in overtime, as the two teams jockey for home ice in a potential First Round series between the clubs. Every Saturday for the balance of the regular season, the #NHLStats team will place a weekly spotlight on one of the League's postseason races.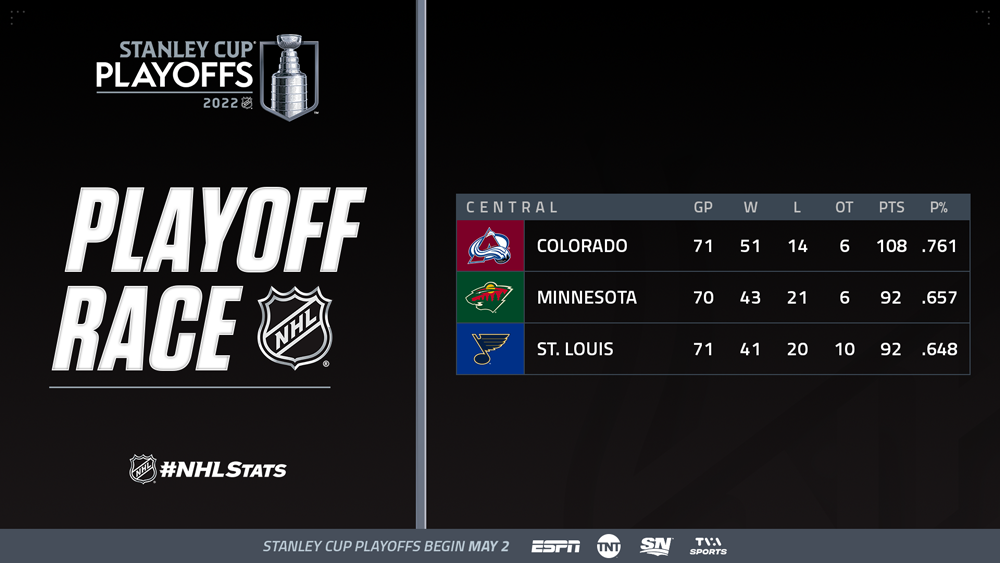 * Minnesota and St. Louis have been stationed within the top three of the Central Division for 151 and 150 days, respectively, in 2021-22. Only four teams have held a top-three position in their division for a longer span this season: Florida (178 days), Carolina (176 days), NY Rangers (172) and Toronto (159).

* The Blues have won both games between the clubs in 2021-22 after claiming victory in the 2022 Discover NHL Winter Classic at Target Field (6-4 W). They are scheduled to face each other once more in the regular season (April 16 in St. Louis). The two franchises have met in the postseason twice – both First Round series – with each team winning once: the Blues in five games in 2017 and Wild in six games in 2015.

* The Wild have their sights set on starting a First Round matchup with home-ice advantage for the first time since 2017, the last time these two franchises met in the postseason (4-1 L vs. STL). The Blues are angling for their 45th playoff berth, which would be five more than the next closest non-Original Six club (PHI: 40).

GAUDREAU, MATTHEWS CHASE FIRST 100-POINT SEASON
Flames forward Johnny Gaudreau (34-65—99 in 71 GP) and Maple Leafs forward Auston Matthews (56-41—97 in 66 GP) will each look to record their first career 100-point season as part of Hockey Night in Canada's five-game slate.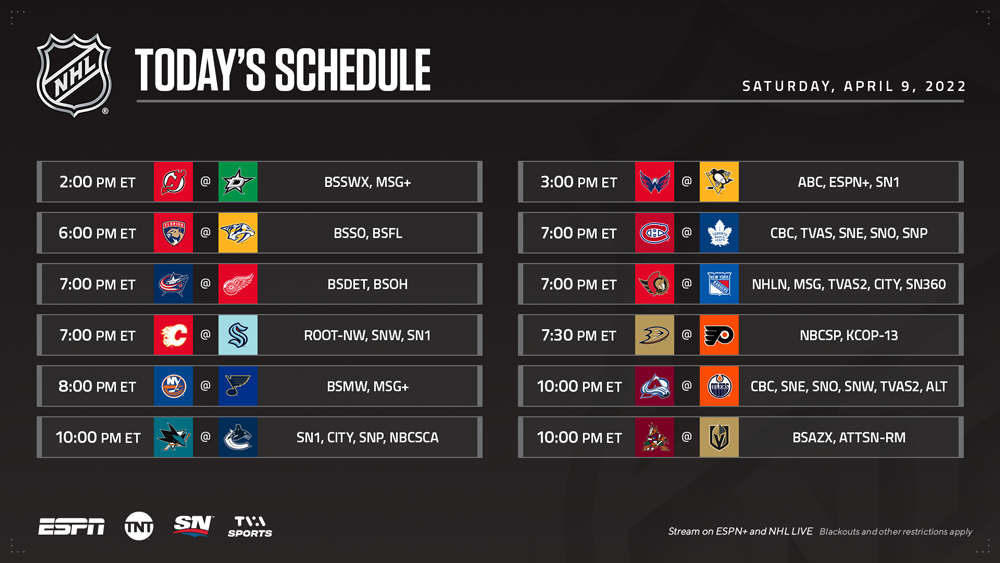 * Gaudreau, who has matched his career high for points in a season set in 2018-19 (36-63—99 in 82 GP), can become the ninth different player in franchise history to hit the century mark in a season and first since Theo Fleury in 1992-93.
* Matthews, who set a new franchise mark for goals in a season as well as the most in a single campaign by a U.S.-born skater on Thursday, can become the third different player in Maple Leafs history to record a 100-point season joining Doug Gilmour (1993-94 & 1992-93) and Darryl Sittler (1977-78 & 1975-76).
* Matthews has scored 49 goals across his last 49 games played (49 in 49 GP dating to Nov. 24, 2021). He can become the first player to score 50 goals in a 50-game span (at any time of a season) since Mario Lemieux in 1995-96 (51 in 50 GP from Oct. 26, 1995 to March 7, 1996).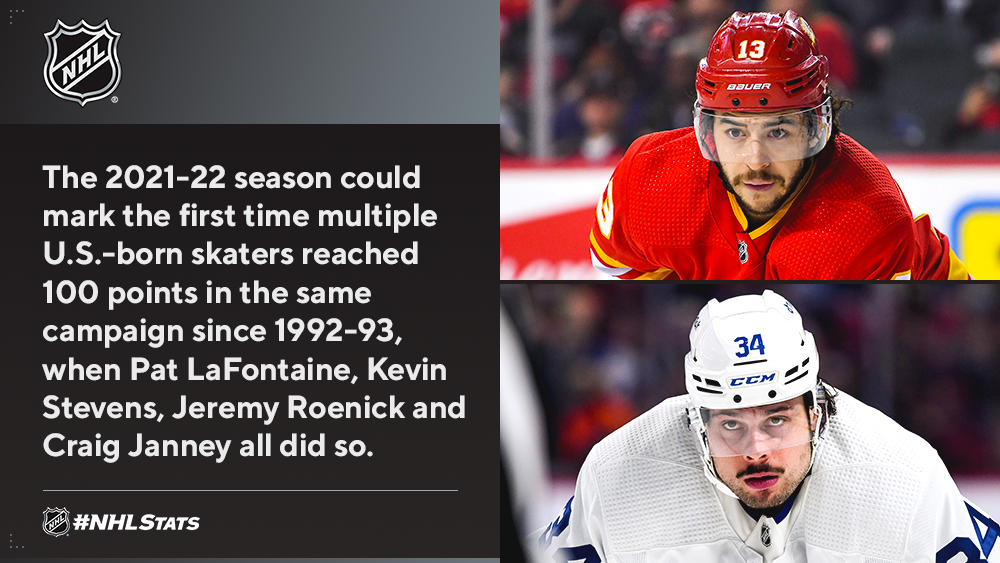 Thanks to the NHL PR department for the information above.